--- 27 Rean Dr #2, Toronto, Ontario, M2K 0A6, Canada
Dr. B and his staff are top notch. From Sue at the front desk to all the hygienists and assistants. They make you feel comfortable and at ease, are very friendly, gentle and professional. Not to mention the other Dentists in the office as well. I just had a procedure with Dr. Fong and she is simply amazing. I wish they were around when I was a kid and hated going to the dentist. Keep up the good work and thank you all.
--- 30 Wertheim Ct #19, Richmond Hill, Ontario, L4B 1B9, Canada
Great professional! So happy to find dr Lloyd when needed. He did a great job cleaning up the mess after some horrible butcher and pretty much saved me.
---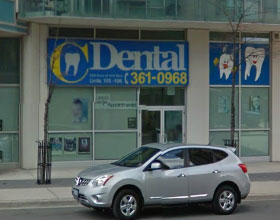 3939 Duke of York Blvd, Mississauga, Ontario, L5B 4N2, Canada
Great service Two thumbs up!!
---